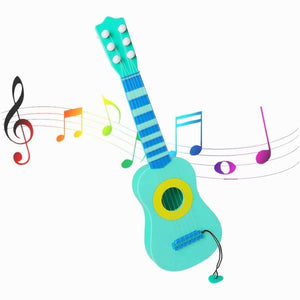 🎸

Child safe material, sturdy, solid, tunable and playable, it is a toy with mild color, but it's a instrument with a great, mellow sound.

🎸

 Strings of nylon material is flexible, soft and smooth tactility, there is no risk of scratching children's small hands.

🎸

 Music education for home and classroom: Toddlers love colorful and shiny things, use as a starter instrument to teach and learn guitar basics.

🎸

  guitar for toddlers support the brain development and motor skills and hand-eye coordination.

🎸

 A toy guitar makes your child feel like a little guitarist, keeps up the motivation. Perfect for encouraging any mini musician, would make a wonderful gift for any creative child.